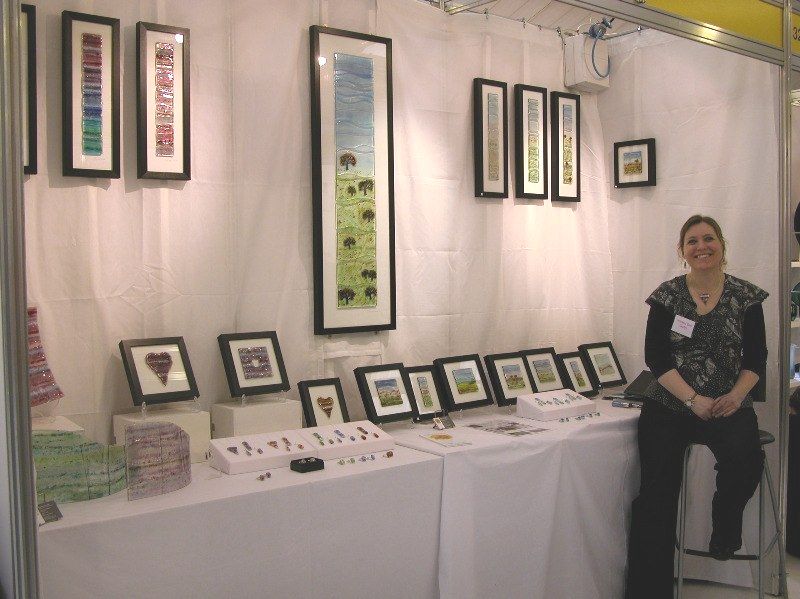 Genevieve Thompson is the person behind Wicked Gen Crafts. Originally from London, she now lives in Halifax, West Yorkshire where she creates original work and runs creative workshops with leaded stained glass, glass fusing, glass on glass mosaic and enamelling on copper.
What initially started as an antedote to a daytime job in IT, grew into something bigger. With a mixture of courses, personal study and practice, a large wealth of knowledge and skills were built up. Genevieve started selling her work, making private commissions and running courses on a part-time basis until in 2011 she was able to leave her career in IT to work full-time with glass.
During this time, Genevieve set up the Northern Division of the Contemporary Glass Society and has taken part in a number of collective fairs and exhibitions including The Piece Hall in Halifax and the Victoria Baths in Manchester. She has given talks to Art and Social groups around West Yorkshire, run workshops for a Doctors Wellbeing Programme, runTeam Building workshops as well as running workshops in Primary Schools and children's groups.
As well as being a creative person, Genevieve is a very active person and spends much of her spare time running and cycling. In 2017 she completed her first Ironman triathlon event in Maastricht. She has run numerous marathons and ultramarathons and in 2021 will be heading to Peru to run the BTU Jungle Ultra through the Amazon rainforest. She also works part-time teaching Bikeability to children at Primary Schools around Bradford.